Cruise Port Navigation proudly presents convenient, affordable internet access for cruisers visiting Japan.

&nbsp
The Japan Internet Pack is designed for cruisers visiting Japan to get convenient and affordable internet access on shore. You can choose a SIM card for your smart phone or a pocket WiFi to connect all of your devices. This exclusive offer allows visitors to Japan to stay connected with family and friends and fully utilize the Cruise Port Navigator App while enjoying the convenience of Internet access. Reserve the Japan Internet Pack today and own your Japan adventure!
1. Order
Book your reservation at least 3 days prior to your desired start date. Book early to ensure availability. Shipping date and address can be changed up to 48 hours prior to selected start date.
2. Personalized Shipping
We will ship to you the evening prior to the start date you select. (Typically, we ship 3 days prior to your desired start date.)
3. Convenient Pick-up
We offer a number of conveniently located pick-up locations including major airports and hotels as well as Yokohama Port's Ōsanbashi International Passenger Terminal.
4. Convenient Return
SIM cards card simply be thrown away after used. Pocket wi-fi mobile routers can be returned by simply placing it in the pre-addressed stamped envelope and dropping it into any nearby mailbox by midnight on your scheduled return date.
Reliable Delivery
We ship according to your pick-up date. Your item will arrive at least a night before your pick-up date. Once we ship your item, we will email your tracking code and a link to check your parcel status.


You can pick up it at various locations including:
A.
Yokohama Osanbashi Port Terminal (Designated days)
1.
Airport (Airport Post Office)
2.
Hotel
3.
Vacation rentals (Airbnb / Serviced apartments)
4.
Local post offices branches
5.
Any local addresses in Japan
(Your home, friend's house, corporate offices, universities &amp dorms, guesthouses)
Returning Devices
Returning the device is easy.
1. Put everything into supplied return envelope.
2. Put it into any mailboxes in Japan.
Mailboxes are available at airports, at Lawson convenience stores, and at post offices. To return device from airports, please use airport post offices listed in the next section.
Typical mailbox is red and square shaped
Airport Post Office Locations
Here is a list of airport pick up place (airport post offices). If you arrive after its business hours, please use hotel pick up instead.
Narita Airport Terminal 1 Postoffice
Operating hours: 8:30 – 20:00 (everyday) Location: Terminal 1, 4th Floor (Departure Lobby)
Narita Airport Terminal 2 Postoffice
Operating hours: 8:30 – 20:00 (everyday) Location: Terminal 2, 3rd Floor (Departure Lobby)
Haneda Airport Domestic Terminal 1 Postoffice
Operating hours: 9:00 – 17:00 (Mon – Fri) Location: Domestic Terminal 1 Bldg, 1st Floor Central Area

You need to take keikyu train or monorails to go to domestic terminal.
Kansai International Airport Terminal 1 Postoffice Operating hours: 9:00 – 17:00 (everyday)
Location: Terminal 1 Bldg, 2nd floor South
Chubu Centrair Airport
Operating hours: 9:00 – 17:00 (Mon – Fri)
Location: Welcome Garden, 1st floor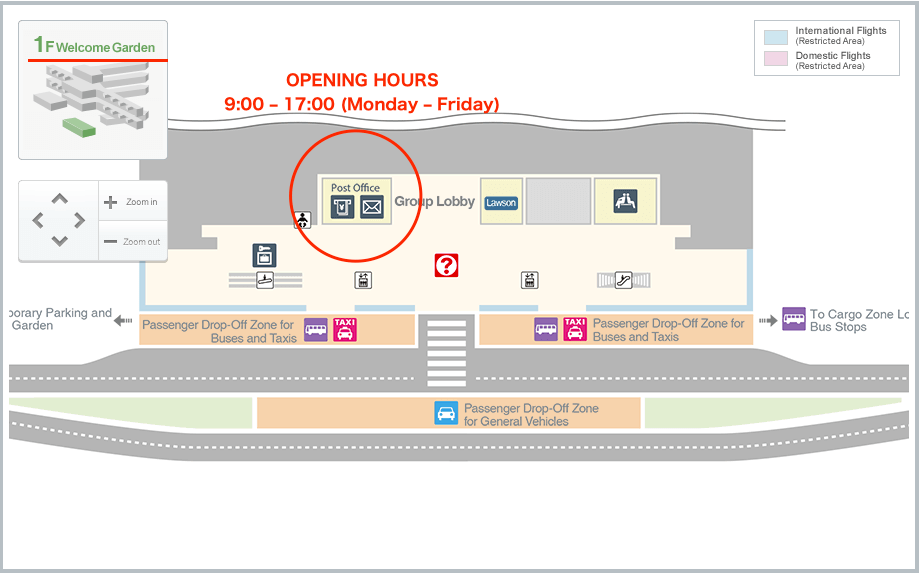 New Chitose Airport Domestic Terminal Postoffice Operating hours: 9:00 – 17:00 (everyday)
Location: Terminal 1 Bldg, 2nd floor South